About / Green Methods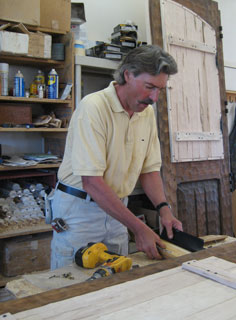 Taos Door & Hardware Co. special orders Spanish cedar that is plantation grown in Africa. Most of the Spanish cedar available is from the rain forest of South America. We no longer use rain forest growth. We use mostly wood that is grown in the U.S. The northeast has the fastest growing forest because the hill farm land is no longer producing crops. The trees are creeping back into the fields to reclaim them as forest. Our pine comes from plantations in Oregon and Washington where the climate is suitable for fast growing pine.
We have now added a 1.88Kw PV grid tie system on the roof that generates most of our power. Our shop is heated with a passive solar trombe wall system and we are using reflective shelf lighting to cut down on our lighting needs. We find that being conservative with the energy and materials available plays a large part in living within our means. Today I'm wishing our wonderful USA would do the same, but don't get me started. Service calls are done with the KLR motorcycle. (50 MPG) I am able to carry alot of tools in the side bags and top case. It makes site visits economical and FUN.
.